Registration for Spring Writing Retreat is Open
This spring, April 8th-10th, Inkwell will be holding its sixth retreat at Oriental Land, located at the end of Line 17. During these uncertain times, we felt that staying inside of Shanghai was important, so we selected a location on the edge of the city in a giant park. Plus, we wanted to build off the amazing success of last year's retreat. Oriental Land  Park is a huge space with a lot of different attractions in it from an aircraft carrier to massive bamboo groves to towering wire sculptures. Here, everyone can find something to stir up a little creativity.
We hope to follow last year's model. There will be eleven lectures, creative writing games, a creative writing scavenger hunt with prizes, and a writing and literature pub quiz. This weekend of creative writing is not to be missed!
With this many lectures and people, not everyone is expected to join every event, and in being more like a conference, people can attend whatever interests them.
We are renting a villa from Oriental Land Hotel. Each retreat participant will share a two-bed, one-bath room. The Japanese villa houses 25 people and priority will be given to early sign ups. Participants over this number will be given rooms in the adjacent villas.
For those seeking an individual, private room, this is possible for an additional 600 rmb.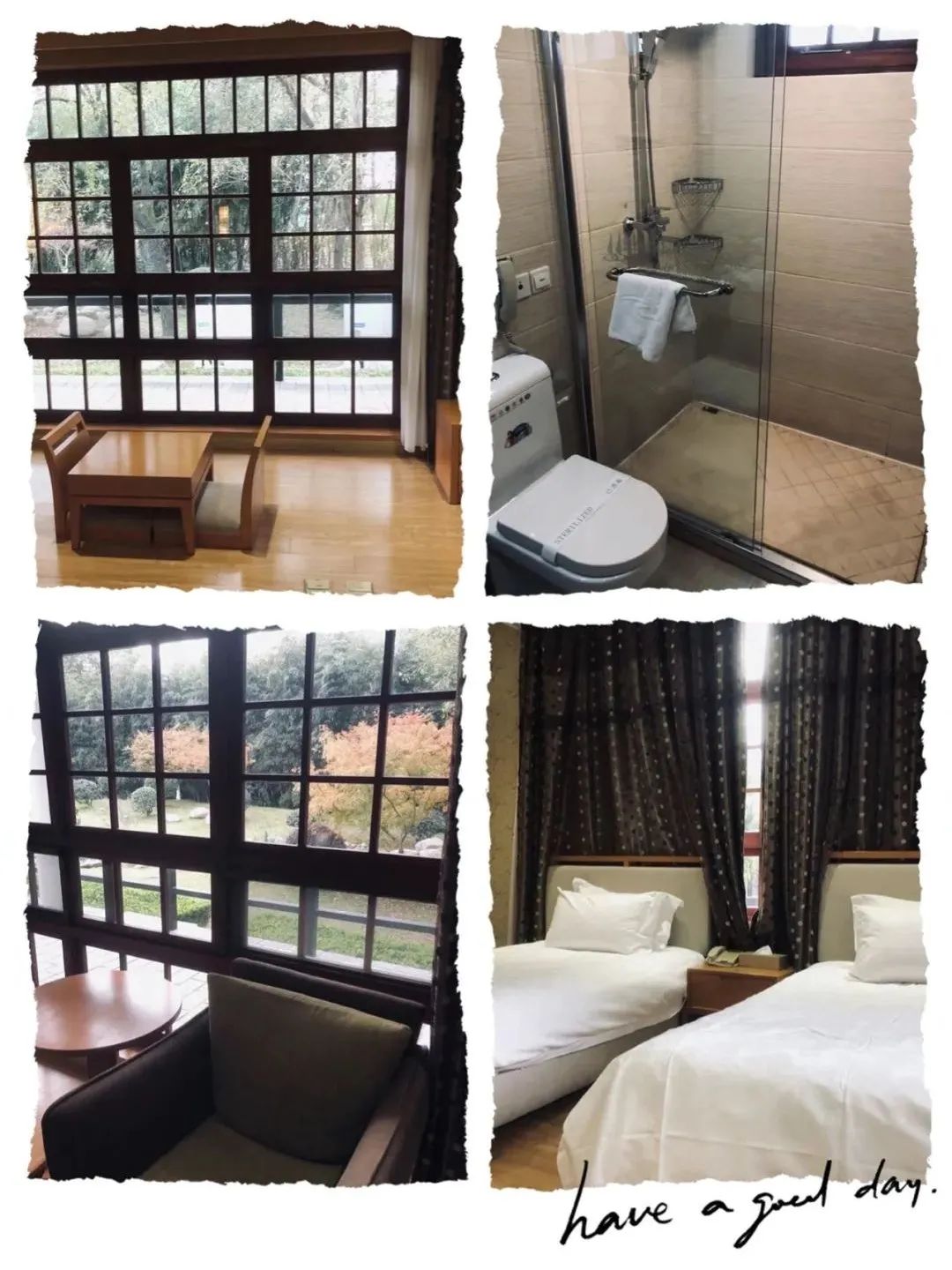 Breakfast will be served buffet style while lunch and dinner will be in private dining rooms and served in the traditional, Chinese family style way.
We use a conference hall for lectures with AV capabilities.
Due to Covid concerns, if the situation closer to retreat looks rough, then we will push back the retreat to early May, and I will refund the deposit of anyone who cannot attend the new date.
Cancelation Policy: Deposits are non-refundable. Additional money given towards the retreat can be refunded at participant's request at least two weeks before the start of the retreat. If participants want someone else to use their registration deposit, it is up to the participant to locate someone else and exchange money. Please notify the organizers so a suitable nametag can be prepared. If Covid requires the hotel to close, then we will cancel the retreat and refund all money.
To join retreat, talk to the director of Inkwell, Ryan Thorpe. The total cost of retreat is 1600 rmb and deposit to reserve a spot is half of the total fee, so 800 rmb. The rest of the fee will be due a week before retreat starts. That cost includes shared accommodation, six meals, park tickets, some alcohol, and the programming costs. The only extra costs to consider are getting there and getting back, which can be done by subway and any additional drinks and snacks you want to bring with you.
Ry's Wechat
This is a new experience that the workshop will be adventuring together. In my seven years of running Inkwell, I have never seen an event as stacked with talent as this one. I hope you decide to join us.
Below is the rough schedule and a list of conference abstracts that will be at retreat. Please read through them. There are some amazing presentations that will be happening. Due to the difficulties of Covid, there might be a few changes by the time retreat happens, so I hope everyone can understand.
I hope to see you there.
Abstracts in Chronological Order of Presentation
Meditation and Morning Pages
with Jane Wang
Jane is the founder and the chief editor of Trinergy Yoga Weekly, a mindful lifestyle online magazine. She is a meditation teacher, writer and speaker to inspire people find a balance in life. 
A healthy morning routine can help you generate quality content consistently. By combining meditation with morning pages, you don't need to wait for inspiration. It will flow freely as your mind becomes calm and quiet yet fills with abundant unique ideas.
In this session, you would learn some quick and practical meditation tips, a hands-on practice of morning pages after a guided meditation and an efficient way to form an ongoing habit to get your creative soul dancing everyday. Please be punctual out of respect for other participants, thanks!
---
How to "Marie Kondo" Your Draft
with Hannah Lund
Hannah Lund currently works in localization at NetEase and is a former editor at Sixth Tone. She has a masters in comparative and world literature and has been published in Speculative Nonfiction, MacQueen's Quinterly, The Shanghai Literary Review, Narrative, and more, with a forthcoming essay in 2020-themed anthology Hindsight.
So. You've done it. You've finished reshaping your piece. Now what? In this lecture editor, translator, and writer Hannah Lund will offer tips for writers on how to think like a copy editor when polishing their pieces to make them shine. Time to get out the shears!
---
Generative Writing Strategies Found in Everyday, All Around You
with Brady Riddle
Brady Riddle currently resides in Shanghai, China, where he teaches secondary English at Shanghai American School, Pudong Campus. He is also the literary editor for A Shanghai Poetry Zine and an active member of Shanghai's Inkwell Poetry Workshop. Brady has been a featured poet and presenter at writers' conferences and poetry festivals from Houston, Texas to Muscat, Oman to Beijing, China. Most recently, Brady's work can be found in A Shanghai Poetry Zine and Alluvium in Shanghai, China; Voice & Verse Poetry Magazine in Hong Kong; Prospectus: A Literary Offering; 3Elements Literary Review.
Yes, I'm the "Poem-a-Day" guy who's been promoting the challenge after inheriting it from the founder. But an important component of my evolution as a writer I have discovered during this new lifestyle has been finding inspiration in places I have never considered before. On days I find myself "stuck", I search for an interesting event that occurred on that day in history: I've written about pirates and space travel. I have explored lives and events in different times. I have also begun to pay more attention to the mundane: clothes hanging out to dry on high rise apartment complexes, people walking in streets and open spaces below me as I ride a bus on the elevated highway to school; how the sun cracks the horizon at dawn; how rain traces down windows. How my mind works while swimming laps in the morning. How a certain photo or artistic piece speaks to me. I could go on and on.
This workshop will center on 3 specific strategies I fall back on in times of writing need: a Concrete/Abstract Noun exercise I discovered years ago, I website I go to from time to time, and something I call "Obstacle Writing"–addressing the things that get in our way of writing, which are probably what we are supposed to be writing about in the first place.
---
Creating Meaningful Dialogue
with Ender Waters
Ender Waters is a filmmaker and high school writing teacher from Melbourne, Australia and Los Angeles, California.
Creating dynamic, meaningful exchanges between well-rounded characters is the one of the primary jobs of the screenwriter or playwright. In this generative workshop Ender Waters will show how to use a close analysis of character motivation and tactic to create conflict-laden scenes with deep subtext.
---
Using Digital Media to Explore Poetic Form
with Stacey Duff
Stacey Duff holds an MFA in Creative Writing from Brown University and currently lectures on digital humanities at Shanghai Xing Wei College. 
How can we harness 21st century technologies so that new generations of readers and writers can engage conventional poetic forms? This workshop explores how poets can maximize their use of digital technologies to teach, appreciate and compose a wide range of formal poetry.
Drawing on a bevy of digital resources—from live performance to music video to animated verse—we discover how cutting-edge technologies can spark new interest in traditional forms, including the sonnet, the villanelle and even the Rubaiyat stanza. Looking to power up your iambs and recharge that volta? Then strap on your pixels, partner, and let's dance!
---
In and Out of Songscape
with Jane Nicola Douglas
Jane Nicola Douglas is a UK songwriter who has lived in the countries of China. Singapore and Hong Kong.  Her close collaboration with UK producer Graeme Holdaway enabled several albums to be independently released with her 6th album, Railtrack, and 5th album, Oh Child, being her latest creations. 
Jane Nicola is a Soul-Folk Singer-Songwriter from the UK. Her 6th album Railtrack (2018) and 5th album Child(2016) were recorded at Sky Production Studios in Hong Kong. The relationship established between producer and artist is essential to the production of an album. As each song is shaped into form, both an intensity and vulnerability are at play. During this discussion and in giving a live performance, Jane Nicola will share the processes involved in creating each album and working with her producer Graeme Holdaway.
---
Brainstorming about Brainstorming
with Ryan Thorpe
Dr. Ryan Thorpe is Executive Director of Inkwell, an associate teaching professor of writing at the University of Michigan-Shanghai Jiao Tong University, and author of Teaching Second Language Creative Writing from Routledge. 
Brainstorming has real problems. It wasn't designed for creative writing. It wasn't even designed for writers. So why do we stay so attached to a model built for another field? By looking at the origins and objectives of brainstorming, applying different theories of creativity, and looking at the building materials of creative writing, we can construct a model of brainstorming that generates writing and speaks to our situation as creative writers.
---
Poetry and Science: Continuing the Conversation
with Russell Grant and Nana Liu
Nana Liu is an associate professor at the Institute of Natural Sciences and the University of Michigan-Shanghai Jiao Tong University Joint Institute. She is a theoretical physicist who is currently working on quantum technologies and writes poetry in her spare time. She believes that passion for science and poetry both spring from the same underlying desire to understand and to communicate, and that they can enrich each other.
Russell Grant teaches high school English Literature, and is the head of the Shanghai Poetry Workshop. His poems have appeared in A Shanghai Poetry Zine, Visions, and Mignolo Arts Centre's Pinky Thinker Press.
Continuing on from their Spring Retreat presentation, poets Russell Grant and Nana Liu would like to expand the conversation they initiated about the relationship between science and poetry further by attempting to put some of their ideas into practice in a generative workshop.
In their Spring Retreat talk, Russell and Nana explored some ways in which Poetry and Science share a host of similarities, including methodologies, attitudes, and vocabulary and even history. In addition they made the argument that poetry would be well served by looking to science and the scientific world, both for inspiration and content. Scientific concepts open up a wealth of metaphors and imagery that poets shouldn't hesitate to explore.
For the Fall Retreat, Nana and Russell would like to develop their ideas and understanding further by seeing how they can be applied in a practical sense in the course of a generative writing session using science and scientific concepts as a springboard for poetic exploration.
---
Sauntering through Sonnets
with Bri O'Boyle
Bri has been living in Shanghai for about three years, she currently works as an elementary school teacher at Shanghai Experimental School. She is a frequent attendee of the Inkwell Poetry Workshop and fills the rest of her free time with more social obligations than the average person and majiang.
Sonnets are one of the most well-known forms of poetry, many might remember sitting through English class reading Shall I compare thee to a summer's day? But what many people don't realize is the sonnet comes in a wide array of styles from Petrarchan, to Shakespearean, to American—there's a kind that suits everyone! In this workshop we will examine where did sonnets come from, how Shakespeare influenced sonnets, and what they have evolved to today. We will learn about what are the most common types of sonnets and how to distinguish them as well as have a chance to generate our own "modern sonnet" which is a lot easier than you might think!
---
Homegrown Horror
with Elena Sichrovsky
Elena Sichrovsky is an Austrian-Taiwanese writer and co-head of the Inkwell Shanghai Fiction Workshop. Her short horror stories have been published in numerous publications, including SciPhi Journal, Planet Scumm, Remastered Words, and Hinnom Magazine.
For most people the word "horror" conjures up frightening images of demonic possession, blood-thirsty vampires, or rampaging serial killers. Most of the horror narratives in books or television can be separated into three main tropes: possession, obsession, and transformation. Each of these relies heavily on the loss of control or autonomy: the one being possessed cannot stop themselves from floating above their bed; the feral cravings of the bloodlust cannot be tamed; and once the moon is out the man is forced to change into a wolf.
This workshop will be comprised of two segments: first we will identify and discuss the threads that both connect and differentiate these tropes, and explore how they are effective to convey terror to the reader. Then we will challenge ourselves to subvert the expectations of those tropes. What if the demon summoned didn't want to take a vessel, and instead was the one trying to break free? What if the sinister took the form of the small and mundane: how can one escalate an obsession with felt stickers or bottle tops, for example? What does it take for a transformation to give someone the shivers–is it the distortion of biology, or the misplacement of body parts, such as nostrils on the fingertips? This workshop invites you to bring your wildest imaginations and put them to work.
---
Introduction to the Oulipo Creative Writing Workshop
with Gaelle Dechelette
Gaelle Dechelette is a French author, content creator and trainer, and have been living in Shanghai for 15 years. With the desire to stay connected with her relatives and to share her experience of China, she started to write informative articles but also columns. Since 2016, she has contributed to several French and English online magazines. In 2016 and 2019, she also self-published two novels, and is working on a third one. At the same time, she joined a writing group which allowed her to experiment a wide range of writing styles and tools. 
https://gaelle-dechelette.mystrikingly.com/
@passage.des.histoires on Instagram for French and English short stories
I will start by quickly introducing the method, which derives from a gathering of French-speaking writers and mathematicians who wanted to develop creativity using constrained writing techniques, founded in 1960 by Raymond Queneau and François Le Lionnais. Constraints are used as a means of triggering ideas and inspiration the group devises new techniques. We will use some of the techniques as "writing games" and in the end, create a short fragment together.
The key words of the Oulipo workshop are openness, acceptance and liberation.
---
The Inkwell is a non-profit literary organization dedicated to hosting educational and literary events and developing the talents of writers. Inkwell是一家致力于举办教育和文学活动、培养作家人才的非营利性文学组织。